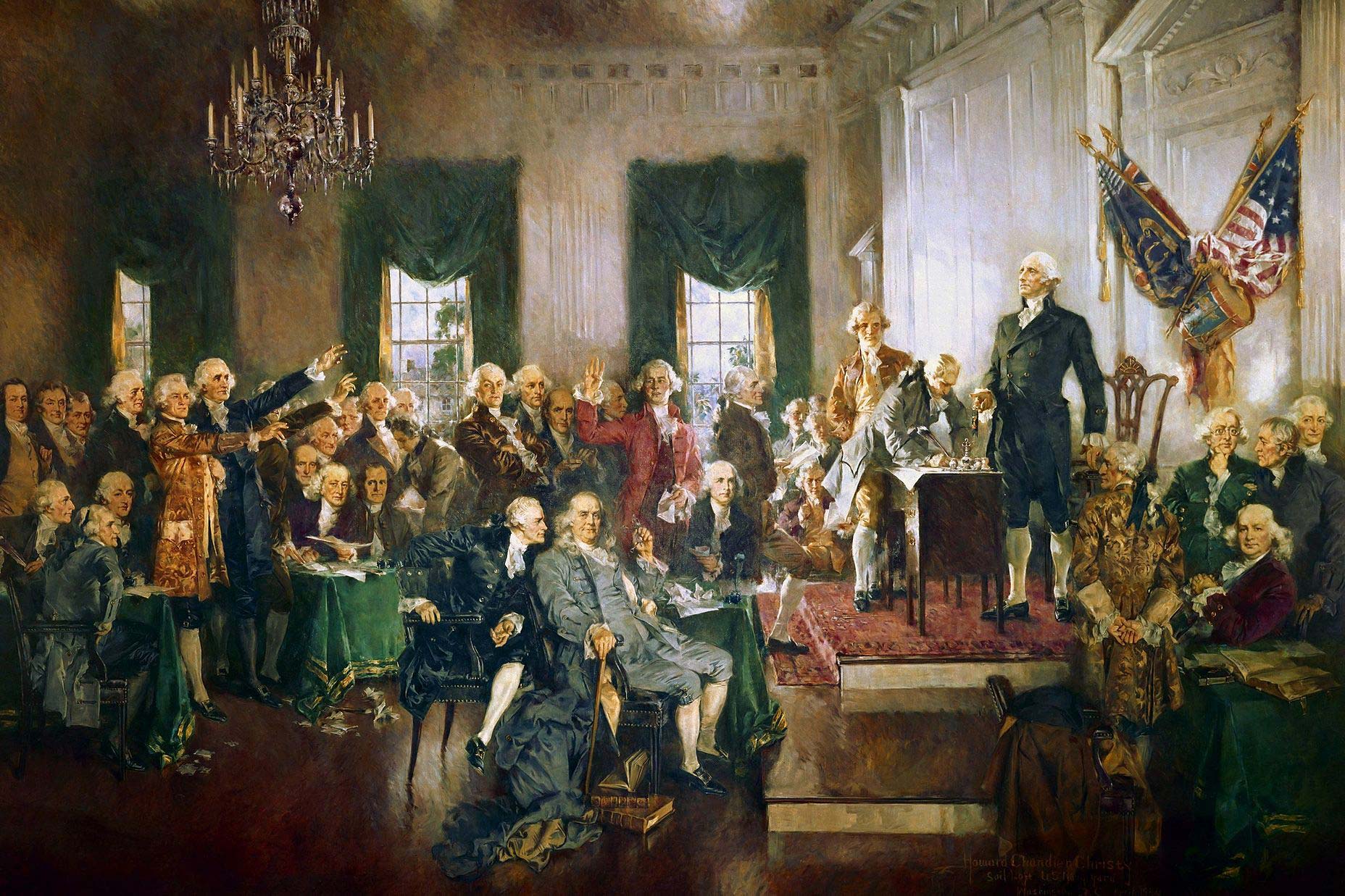 Howard Chandler Christy, Signing of the Constitution
Not much is known about the story behind the Christy painting of the Signing of the Constitution (which hangs in the east stairway in the House wing of the United States Capitol) despite the fact that it is conventionally acclaimed as the best single picture ever created of the American Founding. To be sure, Christy's rendition is not the only one that portrays the signing, but it does make a great effort at historical authenticity, engages in political interpretation, captures the Convention at work, and brings the American Founders to life. Our presentation of Christy's rendition of the Signing of the Constitution permits participants to engage in an interactive exchange with links to the other items.
MOVE YOUR MOUSE OVER A DELEGATE TO SEE THAT DELEGATE'S NAME AND STATE.
73 DELEGATES WERE APPOINTED TO THE CONSTITUTIONAL CONVENTION.
18 declined their appointments:
Richard Henry Lee (Virginia)
Thomas Nelson (Virginia)
Patrick Henry (Virginia)
Abraham Clark (New Jersey)
John Neilson (New Jersey)
Richard Caswell (North Carolina)
Willie Jones (North Carolina)
George Watson (Georgia)
Nathaniel Pendleton (Georgia)
Henry Laurens (South Carolina)
Francis Dana (Massachusetts)
Gabriel Duvall (Maryland)
Robert Hansen Harrison (Maryland)
Thomas Stone (Maryland)
Charles Caroll (Maryland),
Thomas Sim Lee (Maryland)
John Pickering (New Hampshire)
Benjamin West (New Hampshire)
ONLY 39 OF THE 55 DELEGATES WHO ATTENDED THE CONSTITUTIONAL CONVENTION ARE PICTURED IN THE CHRISTY PAINTING.
Not included are the 3 delegates who did not sign the Constitution:
Edmund J. Randolph (Virginia)

George Mason (Virginia)

Elbridge Gerry (Massachusetts)
Also not included are the 13 delegates who left the convention early:
Oliver Ellsworth (Connecticut)

William Houstoun (Georgia)

William L. Pierce (Georgia)

Luther Martin (Maryland)

John F. Mercer (Maryland)

Caleb Strong (Massachusetts)

William C. Houston (New Jersey)

John Lansing, Jr. (New York)

Robert Yates (New York)

William R. Davie (North Carolina)

Alexander Martin (North Carolina)

James McClurg (Virginia)

George Wythe (Virginia)
Many other artists have created visual interpretations of the Convention that provide us with some insight into the public perception and legacy of the Convention.